Ron has trains - up in his attic
We found this cutting in my grandparents' house. I'm not sure why it was newsworthy - probably just filling space in a quiet regional newspaper - but I love it.
He's rightfully proud of his model railway though as it was an impressive sight. I think this picture just represents the first stage as his hobby went on to take over both floors of the little cottege. Sadly the cottage, and the railway with it, had to be dismantled when the building became struturally unsound. Hopefully we have more photos of it in its prime in the numerous photo albums that exist.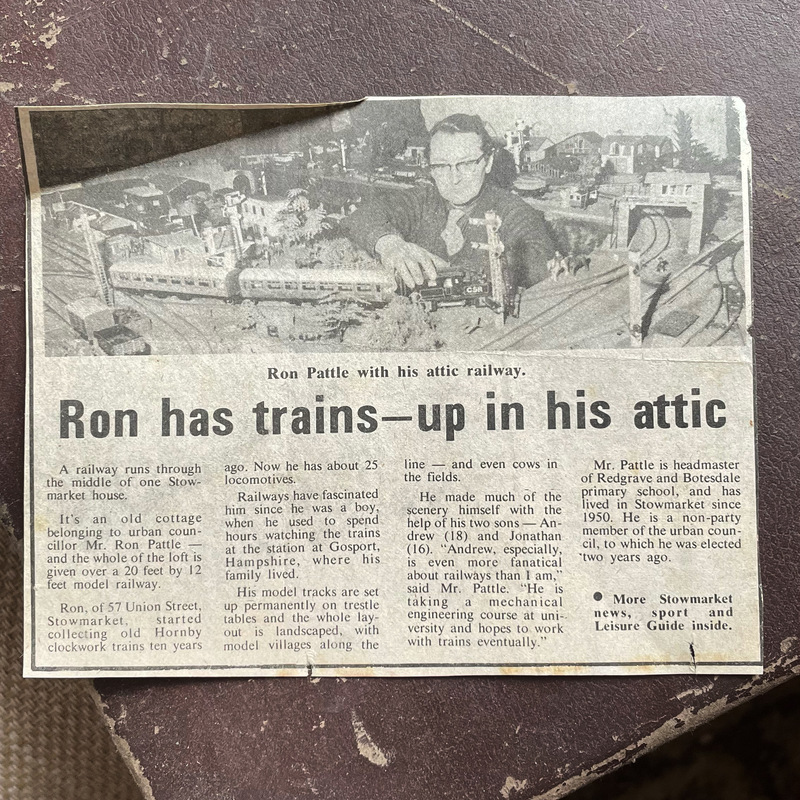 "A railway runs through the middle of one Stowmarket house.
It's an old cottage belonging to urban councillor Mr. Ron Pattle and the whole of the loft is given over a 20 feet by 12 feet model railway.
Ron, of 57 Union Street, Stowmarket started collecting old Hornby clockwork trains ten years ago. Now he has about 25 locomotives.
Railways have fascinated him since he was a boy, when he used to spend hours watching the trains at the station at Gosport, Hampshire, where his family lived.
His model tracks are set up permanently on trestle tables and the whole layout is landscaped, with model villages along the line - and even cows in the fields.
He made much of the scenery himself with the help of his two sons - Andrew (18) and Jonathan (16). "Andrew, especially, is even more fanatical about railways than I am," said Mr. Pattle. "He is taking mechanical engineering course at university and hopes to work with trains eventually."
Mr. Pattle is headmaster of Redgrave and Botesdale school, and has lived in Stowmarket since 1950. He is a non-party member of the urban council, to which he was elected two years ago."